So the boyfriend and I did a thing whereby we paid a ridiculous sum of money for a purebred baby cat who wouldn't make me sneeze (vs. Callisto, who is one of those magical one-in-a-hundred cats who are naturally low in Fel-D1 oh my god I got so lucky with her), and we couldn't be more in love with this ridiculous floof. Dear terribly neglected cat blog, please meet Beckett, the nonsense floof who stole our hearts and a not-insignificant number of crinkly foil balls.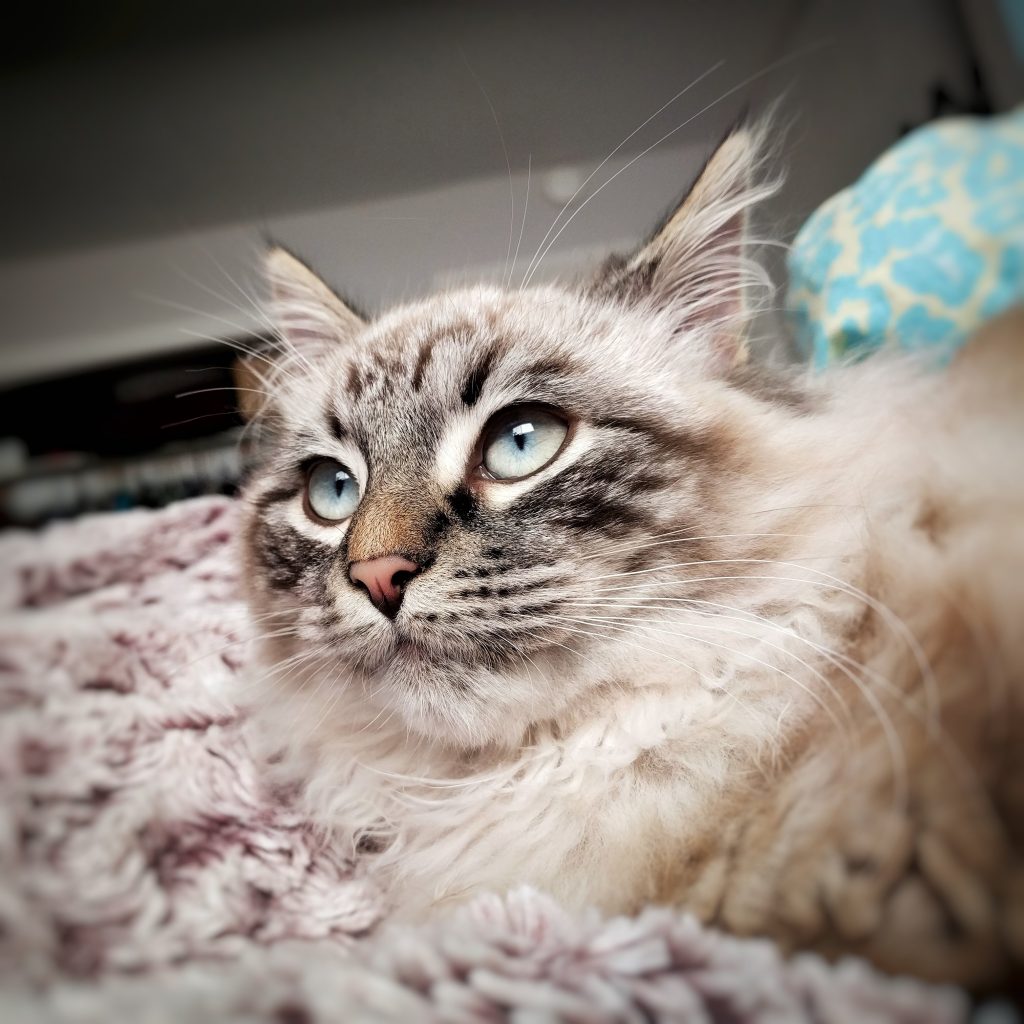 And with the nonsense floof came dry food, because that's what the breeder raised him on. High-quality, grain-free dry, but, y'know, dry.
I'm not a cat food purist by any means. No food is infinitely worse than low-quality food, and I have kick-started the appetites of sick and dying cats with Fancy Feast  many a time and have not regretted a moment of it.  But I have balked at feeding any dry food ever since my initial terrible experiences in the early 2000s. Yet here I was with a kitten who got occasional bits of wet food as treats but who was used to largely eating kibble, and who was reluctant to move straightaway to a high-moisture diet.
So I did what I usually do, which was research the hell out of the high-quality, high-protein dry foods on the market, and I finally settled on a few criteria:
No less than 66% fat and protein content on a dry matter basis, based on the Guaranteed Analysis numbers. For the average dry food with less than 10% moisture, that means at least 60% combined fat and protein. Anything below that is a non-starter for me and what I'm willing to feed my cats.
Grain-free, which honestly is a necessity given my first criteria, because of how starch-dense grains are.
The first five ingredients should be meat or animal fats—exceptions made for brands that list only one or two animal ingredients and one source of starch, and that still meet the Guaranteed Analysis numbers.
A reasonably good reputation—no recall scandals in the past five years, and generally well-regarded and well-reviewed.
I finally settled on these dry foods to feed Beckett as I transitioned him to a high-moisture only diet, all of them contingent on me being able to get samples (or cheap 12-ounce packets) from my local pet stores:
Orijen
OK reputation, good ingredient list, and the guaranteed analysis numbers meet my requirements (40% protein, 20% fat, 10% moisture), plus they have super-convenient 12-oz. packages for $5 each.
Conclusion: I tried both the Six Fish and Cat & Kitten formulas, and Beckett cheerfully ate them most of the time, though he occasionally turned his nose up at the Six Fish for no reason I could discern. Fuckin' kittens. ¯\_(ツ)_/¯
Petcurean Go! Fit + Free chicken, Turkey and Duck
OK reputation, ingredients looked great, and the guaranteed analysis numbers exceeded my requirements (46% protein, 18% fat, 10% moisture). Teeny kibbles, the likes of which I haven't seen since Science Diet, and which the kitten pretty much swallows whole, with barely a perfunctory crunch
Conclusion: Beckett looooves this one. Loves. Part of the reason why he doesn't chew this is because he's too busy enthusiastically scarfing it down.
Wellness Core Original
Look, I know, Wellness isn't the best these days, and they had not one, but two recalls in 2017, but their Core formulations seduced me with their numbers (45% protein, 18% fat, 10% moisture), and I've been feeding their canned food for as long as I've had cats, and their free samples are everywhere.  I know. I KNOW. Damn you, capitalism and your fiendish ability to cultivate consumer loyalty!
Conclusion: Hilariously, this is the food that Beckett is least excited about. He'll maybe take a nibble, but I need to mix it in with other stuff to really get him to eat any significant amount.
Their wickedly expensive line of Signature Selects cans, on the other hand—he'll inhale a couple of those flavors, especially the Skipjack Tuna and Salmon dinner.
Fuckin'. Kittens.
First Mate Pacific Ocean Fish Meal with Blueberries
It still irritates me that pet food companies advertise things like blueberries on their packaging, as if blueberries were a sensible or desirable thing to feed your cat. F'real, y'all, I'd be much more excited to see something like "Pacific Ocean Fish Meal with Egg Yolk", but I'm probably not the average consumer.
That said, my local pet store loves, and I mean L O V E S First Mate, and push samples at me constantly, so I figured, what the hell, let's give this a shot! The numbers meet my requirements (42% protein, 18% fat, 10% moisture), and their reputation seems fine.
Conclusion: Beckett likes this OK! This is the most OK food!
---
There were a couple more brands I didn't try that met my requirements. I was especially intrigued by Evo, for example, which has the highest protein I've seen in a kibble (50% protein, 22% fat, 10% moisture), but I couldn't find a reasonably small bag for me to try on Beckett. And I'm hoping to taper him off all dry food in the next month or so—he's down to 1/8 cup per day now, and he's growing fast and eating more and more wet food (home-made raw and canned) all the time.
But here's the thing that pleasantly surprised me: dry food has come a long way. Hell, even Purina has a grain-free line out, and even though the ingredients and numbers don't look especially great, it blows the numbers for the other grocery store brands out of the water.  Beckett doesn't even have the signature dry food poops I remember from days of yore from my own cats and from volunteering at the Humane Society—the ones you can smell from a whole floor away.
The low moisture content of dry food will prevent me from ever feeding it as the sole ration for any cat I'm the caretaker for, plus too much dry food gives Callisto the runs (which I confirmed this time around when I was a leetle bit too generous with the treats, driven by her I'm-devastated-because-I'm-not-getting-the-tasty-kitten-kibble expression). However, they suck a whole lot less than they used to, and I'll probably continue to dole out kibble as occasional snacks even after Beckett is completely switched over to wet.
---
Aw hell, why even pretend I'm here to talk about cat food any more? Here, have some photos of my adorable hypoallergenic fuzzbutt, with bonus adorable boyfriend.